Anubhav Mandap' in Basavakalyan: Karnataka
Why in discussion?
The Chief Minister of Karnataka has laid the foundation stone of the 'New Anubhav Mandap' in Basavakalyan, it is known that this is the place where 12th-century poet-philosopher Basaveshwara spent most of his life.
key points
New Anubhav Pavilion
It will be a six-story structure built on a 7.5-acre plot, which will represent various principles of Basaveshwara's philosophy.
It will display the 'Anubhav Mandapa' (often referred to as the world's first parliament) set up by Basaveshwara in Basavakalyan in the 12th century. It may be noted that in the 'Anubhav Mandap' established by Basaveshwara, there were debates by various philosophers and social reformers.
It will be constructed in the Kalyan Chalukya style of architecture.

Kalyan Chalukya is an integral part of the ancient Karnataka history of medieval times. The Kalyan Chalukya rulers built temples like their predecessors and patronized the dance and music arts.

This grand structure supported by 770 pillars will also house an auditorium with a seating capacity of 770 people.
It is believed that 770 Sharanas (followers of Basaveshwara) led the 'Vaksh' reformist movement in the 12th century.
A huge Shivling will be installed on the top of it.
The state-of-the-art robotic system, open-air theater, modern water conservation system, library, research center, prayer hall and yoga center are also envisaged.
Basaveshwar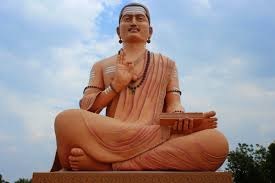 Brief Introduction
Guru Basaveshwara (1134–1168) was an Indian philosopher, social reformer and leader who attempted to create a casteless society and fought against caste and religious discrimination.

Basavanna Jayanti, an annual event celebrated to commemorate the birth of Saint Basavanna (Lord Basaveshwara).
Guru Basaveshwara was born in 1131 AD at a place called Bagewadi (in the undivided Bijapur district of Karnataka).

Guru Basaveshwara is also considered the founder of the Lingayat sect.
Visit
The philosophy propounded by Guru Basaveshwara was based on the principles of Arivu (true knowledge), ethos (right conduct), and Anubhava (divine experience), which brought about a social, religious, and economic revolution in the 12th century.
He probably moved to 'Kalyan' (presently 'Basavakalyan') in the year 1154 and during his long stay there for 12-13 years he did many important works.

Due to his efforts, the doors of religion were opened to all without discrimination on the basis of caste, creed or gender.
He established the 'Anubhav Mandap', which was a general forum for discussing social, economic and political issues.

Thus it is considered as the first Parliament of India, where 'Sharanas' sat together and discussed socialist principles in a democratic framework.

He gave two other important socio-economic principles –

Kayaka (Divine Work): According to this principle, every person of the society should do the work of his choice with honesty.
Dasoha (uniform distribution)

There should be equal income for similar work.
Workers (executive) can easily make a living with their hard-earned money. They should not conserve wealth or property for the future, rather they should use surplus money for the welfare of society and the poor.
'Vow' reform movement
The main objective of the 'vakaha' (poem) movement, led by Basaveshwara in the 12th century, was to benefit all.
This movement attempted to address class, caste and to some extent gender issues in the prevailing social environment of the time.